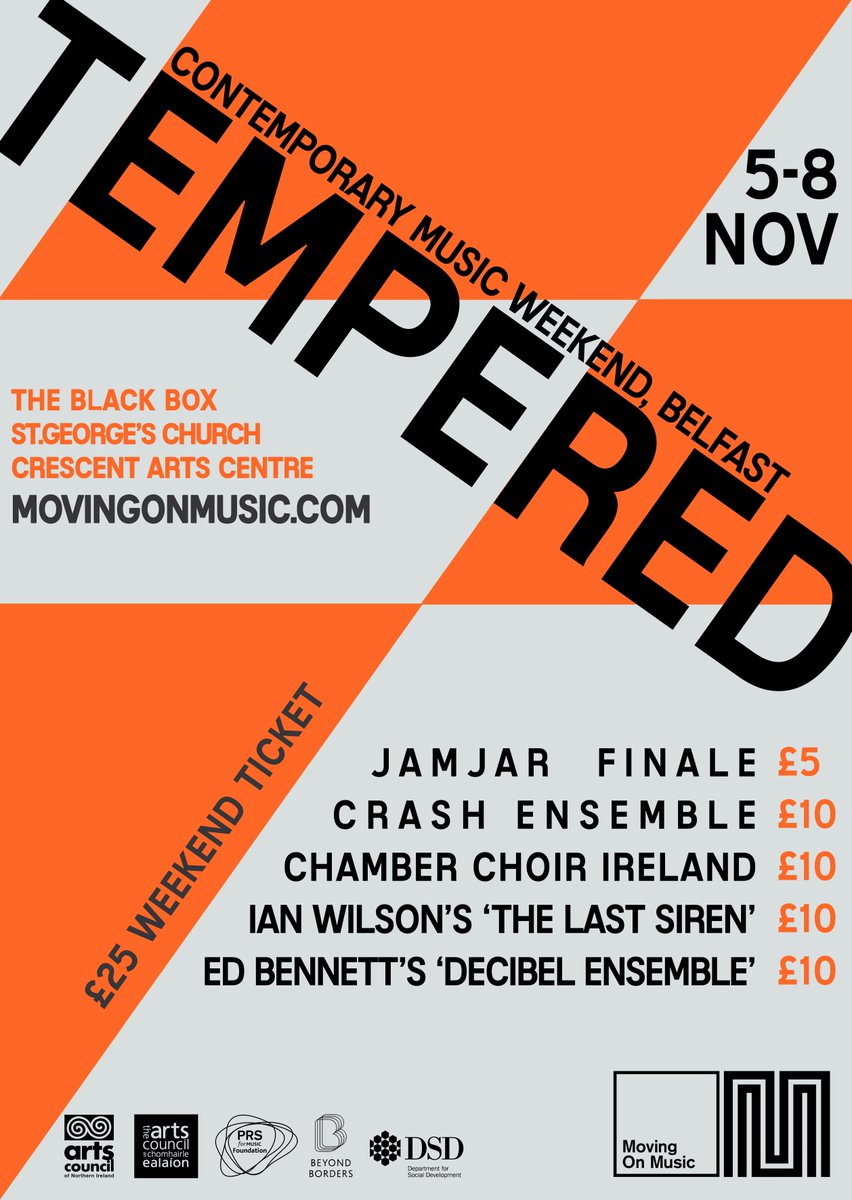 Tempered, a contemporary music festival presented by Belfast-based Moving on Music takes place at the Crescent Arts Centre from 5 – 8 November.
Billed as a showcase of 'homegrown contemporary music talent', the weekend festival will feature five events, beginning on Thursday with a performance from Crash Ensemble. Crash will perform their 'Born in the 80s' programme, which they have performed multiple times and which features music by young Irish composers Jonathan Nangle, Barry O'Halpin, Ben Schlepper-Connolly, Amanda Feery and Emma O'Halloran.
On Friday, a new multimedia theatre work, or experimental opera, called The Sirens features music by Ian Wilson performed by singer Lauren Kinsella, sound/imagery by sound art collective The Quiet Club (Danny McCarthy and Mick O'Shea), and direction by Serbian theatre director Ksenija Krnajski.
Two events take place on Saturday, beginning with an afternoon concert by Chamber Choir Ireland celebrating the 80th birthday of Estonian composer Arvo Pärt. In the evening, Decibel, a new-music ensemble directed by composer Ed Bennett will present a portrait concert of Bennett's music, including a new work specially commissioned for this event.
The festival will close with an event of live interviews, collaborations and performances presented by JamJar, a monthly experimental music night that was established earlier this year in Belfast's Black Box venue. JamJar is curated by Úna Monaghan and Gascia Ouzounian, who will perform at this Tempered event with artist Helena Hamilton.
Tickets for individual events cost £10, except for JamJar, which costs just £5. There is also a weekend ticket for entry into all five events for £25. All tickets, and more information on each concert, are available from www.movingonmusic.com.
5 Nov, 8.30pm, Crash Ensemble 'Born in the 80s', Crescent Arts Centre
6 Nov, 8.30pm, Ian Wilson 'The Last Siren', Crescent Arts Centre
7 Nov, 3.30pm, Chamber Choir Ireland, St. George's Church
7 Nov, 8.30pm, Decibel, Crescent Arts Centre
8 Nov, 8.30pm, JamJar, Black Box